Waipipi Art Storage Facility
Exhibition Services Ltd and Triptych Ltd have created a new climate controlled facility in Masterton to provide art and exhibition logistics, storage & conservation services to the Art & Heritage sector.

Security
The facility has a comprehensive security system including CCTV, monitored security alarm and monitored smoke/heat detectors. Quality deadlocks and digital locks have been fitted to the front and internal doors.

Temporary Art Storage
Secure in-transit or short term storage options for collectors and institutions

Packing & Crating
Separate clean workshop for soft packing, crate fit-out & touring exhibition preparation.

Triptych Conservation
Triptych is a supplier of archival enclosures, conservation materials, care and handling products and disaster response kits. It can also provide custom made archival storage solutions.
Triptych is an established training provider for the heritage sector which includes two standard courses – Care and Handling and Disaster Preparedness and Recovery for Libraries, Archives and Records. 
Website: https://www.triptych.co.nz/
Location
The facility is five minutes north of Masterton at: 57 Waipipi Rd, Opaki, Masterton.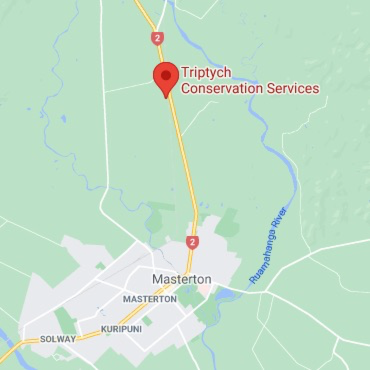 To view in Google Maps, click here.